By BILL MALLEY

Special to sportkingston.ca
The graduation of five key seniors from the McMaster women's basketball team removed a ton of experience, not to mention a considerable statistics, from the Marauders lineup heading into the 2014-15 Ontario University Athletics season.
Coming into the new campaign there were questions about how all those minutes would be filled and from where some of the lost scoring and rebounding would come. To say expectations of the team were fairly modest would be accurate, but the Marauders have been one of the surprise teams on the CIS basketball landscape; leaping into the Top 10 early and maintaining their national ranking.
Returning all-star Danielle Boiago has certainly performed at the level expected of her, and the talent injection of blue-chip recruits like Hilary Hanaka and Linnaea Harper has provided a spark that the coaches were hoping for, but perhaps the biggest factor in McMaster's early season success has been the emergence of forward Clare Kenney. The third-year forward from Gananoque via Regiopolis Notre Dame has been a pleasant surprise, as she has stepped up to become the inside scoring and rebounding presence that the team desperately needed.
Marauder Coach Theresa Burns calls Kenney's play "invaluable" to the Marauders' strong start to the year.
"It's been a huge part of the team being successful this year," said Burns. "Now our perimeter players know they can count on Clare to do the job inside and there is a much more balanced scoring attack on the floor."
For the last two seasons, the Marauder offense ran through 6-3 post powerhouse Hailey Milligan, who usually got a touch on every possession and who was a rebounding machine. Twice named an OUA First-Team All-Star, Milligan ended her career as the leading rebounder and fourth-leading scorer in McMaster history.
While her graduation left a gaping hole on the roster, it also allowed the understudy to assume the leading role, and Kenney has made the most of the opportunity. Last season, as Milligan's backup, Kenney provided solid post play off the Marauder bench, averaging 2.5 points per game and grabbing 1.8 rebounds per game. This year, her production has exploded to a scoring average of 15.5 points, while grabbing 7.4 boards per contest.
Kenney's shooting numbers have been terrific, as she has made 56.5 per cent of her field goal attempts, while making 70 per cent of her free throws. Simply put, she is performing at an All-Star level.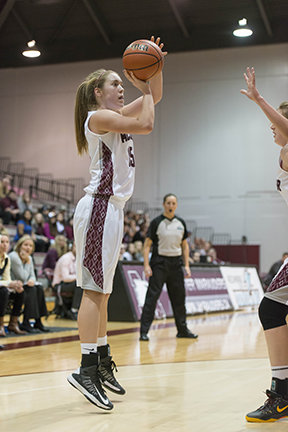 Regi grad Clare Kenney is averaging 15.5 points per game in her first year as a starter. (Yoseif Haddad photo)

"I had big shoes to fill coming into this year," Kenney said about replacing Milligan. "I really wanted to remember everything Hailey had taught me, but being undersized I knew I needed to work on my hook shot and my outside shot. Without Hailey to hide behind I knew I'd have to come out stronger."

While it was expected that as a third-year member of a young team, Kenney would have to step up her contribution this year, it's fair to say she has surpassed expectations. "There was an opportunity for someone to step up and grab that vacant post position," Burns said. "We hoped that by the second half of the year, Clare would be comfortable grabbing those minutes, being that go-to post option, but she has done that from Day 1. Her development has leapfrogged whatever timetable we had in mind for her and she deserves all the credit for that."

In one November stretch, Kenney improved her personal career scoring high in three consecutive games, and her efforts so far have already seen her recognized twice as McMaster's Female Athlete of the Week.

Kenney's role as a substitute behind Milligan for two seasons offered limiting playing time, but it put her on the floor against one of Canada's top post players every day in practice.

"It was almost like having another coach, because not only would she tell me what to do, she would show me on the floor," Kenney said, "and being more of a visual learner, I could watch her to see what to do in games—and she could do things perfectly.

"(Milligan) was a great role model on and off the court."

With Milligan now playing professionally in the Czech Republic, Kenney knows there are not many posts she will face in the OUA that are on par with her former teammate, so intimidation is never a factor in her preparation.

Standing six feet tall, Kenney still gives up some inches against other post players, but she has developed her mid-range game and continues to run the court like a gazelle, a trait she had when she arrived in Hamilton three seasons ago.

"I love to run," says Kenney, who brightens visibly at the thought of racing opposing players downcourt. "I love the feeling of passing someone on the court and knowing I'm wide open and they aren't going to catch me. It's great playing with the girls on this team because everyone is fast and that's something we can exploit." In fact, her ability to run was an attractive attribute for Coach Burns in the recruiting process, as she foresaw Kenney thriving in McMaster's up-tempo transition style of play.

Moving into the second half of the season, Kenney will no longer have the element of surprise that she enjoyed as a first-time starter. She knows she will be a focal point in opposition scouting reports, and will have to adjust to more attention being paid to her.

"That's just one more thing I'll have to adjust to," Kenney said. "I'll have to play smarter and scout the other teams like they scout me. It will be more mental than in my first two years."

As one of the more experienced members of the Marauder squad, Kenney now also serves as a mentor for some of the new players.

"It took awhile to adjust to, because we had some very vocal leaders on our team," Kenney said, "but it was something we (returning players) talked about in the summer, and agreed we needed to fill that role. I think we've all contributed and you can't really point to one person as the vocal leader. We all share that role."

With McMaster ranked seventh in the national Top 10, the team is among a handful that should contend for the OUA Final Four and a berth in the CIS tournament being played at Laval in March. Burns says there is no question that consistent play from Kenney will be crucial to team's fortunes.

"We have what it takes to make the nationals," said Kenney. "We just need to play consistently to get there."

Heading into the season, that prospect may have seemed premature for such a young team, but Kenney's play has put the Marauders squarely in the mix. "Coming into the year, I think teams underestimated us," she added. "Now that we're ranked we have a target on our backs so we are trying to figure out how to deal with that, but I'm not worried about it because we'll figure it out."

(Bill Malley is the sports information director at McMaster University)