Home > Articles > Grenadiers Football > Nikolas Daniele-Reyes named to Team Ontario


Nikolas Daniele-Reyes named to Team Ontario


Posted: December 30th, 2014 @ 5:56pm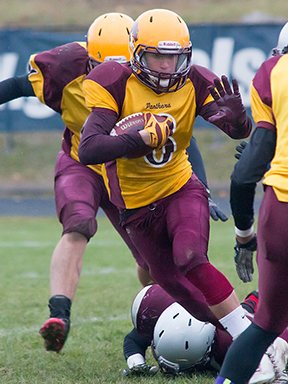 Nikolas Daniele-Reyes, seen here playing for the Regiopolis Notre Dame Panthers, has been named to the Ontario team that will play in the International Bowl football tournament in Texas in February. (sportsgate.ca photo)

By CLAUDE SCILLEY

He caught Tom Flaxman's eye almost immediately. Even in a group of about 160 football players auditioning for Team Ontario, the young man from Kingston "stood out right from the start."

"Right from the get-go, right from the individual drills we did in the first practice, we knew that Nik was a guy who could help our football team," Flaxman, offensive co-ordinator of the provincial under-18 team, said of Nikolas Daniele-Reyes.

Daniele-Reyes, the erstwhile Regiopolis Notre Dame Panther and Kingston Grenadier, had the same inkling. "Once I got out there and I caught the first ball," he said, "I thought, 'All right, time to calm down. You've got this.'"

A phone call from coach Dwayne Cameron a couple of days after the tryout weekend in early December confirmed it: Daniele-Reyes would be among the members of Team Ontario at the International Bowl tournament in Texas in February.

It couldn't have been easy to make a good impression at a tryout that consisted of two three-hour sessions: One that cut about 100 aspiring players from the original group, and another that determined who would be on the final roster of 40.

"It was a little intimidating at first because it was the first time I've been to that sort of event," Daniele-Reyes said, "but it was very exciting. It was a little nerve-wracking at first, I was very nervous in the first tryout, then when I found out I made the first cut, it kind of boosted my confidence and I did much better in the second part."

Flaxman acknowledged that it's not easy to make yourself stand out in such a large group in such a short period of time.

"What you want to see in that kind of setting is a guy with a quiet confidence," he said, "(someone) who goes about his business in a way that shows that he's comfortable playing the game; confident in his routes and catching the football."

Daniele-Reyes was such a player.

"(He was) executing his assignments with precision," Flaxman said, "in a way that you knew he was confident in what he was trying to do, but he wasn't over the top with it. He wasn't trying to get anybody's attention, just going about his business and getting the job done.

"When you're taking a team away like this and you're going to be away from parents for five or six days, and in a lot of cases for these kids for the first time, you really want to bring guys that you believe to have good character and are going to do the right thing while they're down there. Sometimes that's really difficult to evaluate in a six- or eight-hour period, but you can tell a lot by the way a player conducts himself on the field and we were very comfortable with the way Nik conducted himself on the field."

A member of the junior varsity Grenadiers and a running back with the senior team at Regi, Daniele-Reyes said he enjoys football for its atmosphere.

"I love playing with a team that makes you feel very welcomed, which I feel around the Grens and the Regi team. No one's an 'I' player. It's all about the guy beside you, which is what I like: the linemen will push hard for me to get through, and I'll do my best to give the quarterback another chance to throw the ball."

In Quebec, a late birthdate led Daniele-Reyes to begin school a year later than his contemporaries in Ontario, so he was an anomaly to be playing senior ball though he's still in Grade 10. There was also the personal anomaly of playing running back though he hopes to fashion a career as a receiver.

"(Running back) was fun; receiver will be my main position to play," he said. "Some running backs are very good because they have the patience and the vision to find holes. I found myself just quick enough to get by the guy."

Flaxman said Team Ontario will employ an up-tempo, no-huddle offence that will utilize a quick-passing attack.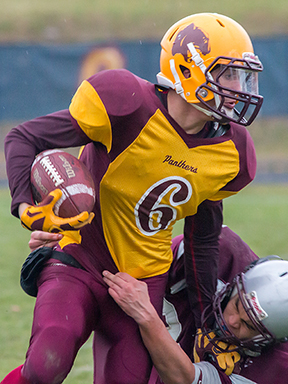 'He's got a great attitude; he's extremely coachable, and in a short tournament like the one we're about to go to that's a key attribute, because we're only going to have five or six practices to put an offence in.' — Team Ontario offensive co-ordinator Tom Flaxman. (sportsgate.ca photo)

"What we're looking for Nik to do is get in and out of his routes quickly, to be a guy who can make some plays with the ball in his hands, turn a five- or six-yard catch into a 15- or 20-yard gain," Flaxman said. "It's going to be a lot of quick passing. We think that suits our quarterback well, and we've selected receivers who we feel can make plays after the catch, and Nik is one of them—be the guy who will run that intermediate route over the middle and catch those balls when he knows he's probably going to take a hit.

"We know Nik's capable of doing that. He's got a great attitude; he's extremely coachable, and in a short tournament like the one we're about to go to that's a key attribute, because we're only going to have five or six practices to put an offence in."

It was with an eye to the future that Daniele-Reyes undertook to attend the tryout camp.

"I'm pushing myself toward university-level ball, and right now I'm trying to get as much exposure as I can," he said. "Going to the States as a Canadian boy is kind of a big deal for me. That's my bar. That's my goal, to put my name out there, so maybe a state program sends me a letter some day.

"Staying in Canada would be fun, too. I just want to play at the next level, wherever it takes me."

One of two Grenadiers to be named to a provincial team—lineman Hunter Dickerson of Napanee was selected to the under-17 side—Daniele-Reyes said the calibre of athletes at the tryout was "outstanding."

"There was not one bad person there," he said. "Everyone that went there is talented in different types of ways. If they're not the fastest, they'll go for every ball and catch everything or they have burnout speed and it's ridiculous. Every player there was pretty good and I'm very honoured to be selected."

In the day or two it took to get the good news, Daniele-Reyes said he was confident he'd made the team.

"After what I saw in the second tryout I had a good feeling about my performance, because I was more relaxed. I felt I had a pretty good chance of making it but with the talent that was there, you never know. I thought I did well and put in the work to be selected. I definitely left it all (but) if I hadn't have made it, it wouldn't have been that big a deal. Honestly, I would have liked the experience of going and showing my talent, what I'm capable of, to the university people who where there. It was a great experience overall."

The team gathers Jan. 25 to depart for Texas, where play will begin Jan. 31. Team Ontario is scheduled to play twice in Cowboys Stadium in Arlington, home of the NFL's Dallas Cowboys.

Daniele-Reyes said he's never been to Texas but he's well aware of what a big deal football is there.

"That's why I'm very exited and a little nervous at the same time," he said. "It's just going to be a fun experience to be with the other Ontario guys, representing not just the community, but the province as well."


Related Articles: