Who'd have thought that six months after a restless Grade 13 student decided to play football for the first time in his life, Carter Matheson would be heading to the University of Ottawa to cast his lot, not with the basketball team, but with the football Gee-Gees.
"Nobody saw this coming," Suche James said. "Nobody."
Matheson has long been regarded as one of the city's premier basketball players, the best player on successive Frontenac teams that went to Ontario Federation of School Athletic Associations championships.
It was at an OFSAA Bowl football game, however, where the Falcons defeated Toronto Richview, that three Gee-Gees coaches noticed Matheson. He caught four passes that day, in just the ninth football game of his life.
"They were really impressed with his athleticism," Ottawa head coach Jamie Barresi said.
What they saw of that athletic ability was confirmed when they later went to watch Matheson play basketball, and while it might seem unusual to cross-check a recruit by watching him compete in another sport, Barresi said it's not unheard of for a relative neophyte to find success on the football field.
"There's a lot of transferable skills," he said. "There are a lot of outstanding football players on basketball courts that never get discovered. In the NCAA I've seen this happen before. It will be a learning curve, I'm sure, but in my coaching experience I've seen it happen quite a bit."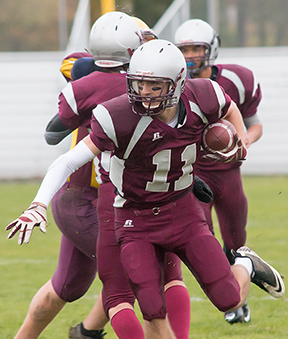 After a stellar scholastic basketball career, Frontenac's Carter Matheson has chosen to pursue football at the University of Ottawa — sportsgate.ca photo

Matheson said he'd never entertained the thought of playing football before last fall. "Grade 13 was pretty boring at first," he said, "so I thought I'd try something new and it was a lot of fun.

"I like the physicality of it," Matheson said of his new and now premier avocation, after playing in the annual high school basketball all-star game at Holy Cross. "I like the whole team aspect. It was a good atmosphere to be in."

He remembers his welcome-to-football moment. It was in the Kingston Area regular-season opener against Sydenham. "The first pass that came to me got intercepted," he said. "It was rough start."

It wasn't long, however, before Matheson was making people notice.

"When you watch him on the football field, without even knowing what he's doing, x's-and-o's wise, he just looks like a CIS receiver," said James, Frontenac's basketball coach. He's spoke of how football coaches will talk about a play as a 50-50 ball, where the player has to go up and fight for the ball, and he recalled a game where, twice in a row, on onside kicks, Matheson made such a play.

"That is a brave football play," James said. "When you're going up for a 50-50 ball on an onside kick, you've got to be some tough, you've got to have great hands—you have to be a football player.

"Carter's made to be a CIS receiver."

Basketball was good for Matheson, James believes, "but who knew that it was going to be a buildup to play football at the next level? It was something to do in his fifth year, be part of a team, and be part of a different part of the culture of our school. Football's a big part of our culture and he wanted to experience it. Never in a million years did he think that'd be the thing he was going to do at the next level."

Matheson likely didn't foresee it—"I didn't think I had the experience for it, but I guess it kind of came naturally for me"— and, certainly, nobody in Ottawa did, either, but Barresi said Matheson's potential makes it something worth his while to explore.

"He decided that he wants to play football and this was the direction he wanted to take," Barresi said. "We feel good about his commitment to this. He convinced me. When you get a guy who's that rangy and tall and athletic, it's worth the risk.

"Who knows how it will work out? We'll see. He's a pretty good student, so I feel good about it."