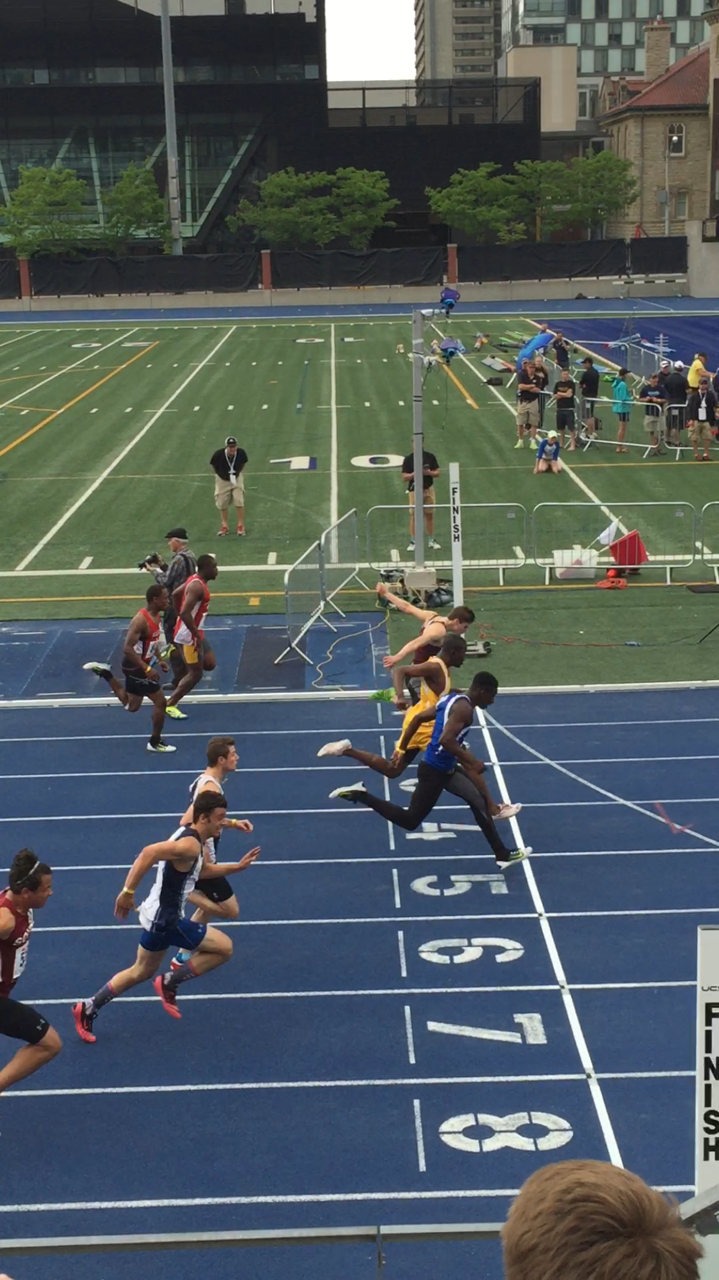 Emmanuelle Ajiroba of St. Augustine (foreground) nips Frontenac's Cole Horsman (top) for the gold medal in the midget boys 100 metre final at OFSAA — Tom Adair photo

By CLAUDE SCILLEY

TORONTO—You know it's a close race when even the guys who were in it don't know who won.

For almost a minute after the race ended, a cluster of midget age sprinters stood on the track, staring at the scoreboard in the end zone of the Varsity Centre, waiting to see what the photo timer would determine.

When electronic eye finally furnished the finish-line photo for the final of midget boys 100 metres, it showed Emmanuelle Ajiroba of Brampton St. Augustine ever so slightly ahead of Frontenac's Cole Horsman. Just four one-thousandths of a second separated the two, and just another one-hundredth of a second behind them was Justin Mensah of Chaminade College of Toronto.
The official finish photo shows Frontenac's Cole Horsman (foreground) being edged by Emmanuelle Ajiroba of Brampton St. Augustine — Windsor Timing photo

"We were all looking at each other, (wondering) who got first," Ajiroba said. "We all thought we got third.

"As soon as I heard my name I was, like, 'What?!' I honestly thought I was third. I saw two people in front of me when I crossed the finish line. I was so surprised. I'm still trying to take it in."

For Horsman, it was the first time in seven meets that he didn't win.

"We were all hoping we'd be that No. 1 out there but No. 2 is really good, too," he said. "It could have gone either way. It was so close.

"At the finish it looked like a dead tie in the video I watched but he had that fraction of a second."

Ajiroba had the fastest time in the morning heats, 11.24 seconds. Horsman, who came into the event with the top qualifying performance, 11.15 seconds at last week's regionals, won the slow heat in 11.30 and was the third-fastest qualifier for the final.

For both Ajiroba and Horsman, Friday's competition was a new experience.

"I've always had a nice lead," Ajiroba said. "but I knew it was going to be a close race because I'd read about the (seed) times.

"I had a bad start but I saw them in front of me and I said 'I have to win this,' and I pushed as hard as I can. I stuck my head out (at the finish line) and got first."

Horsman said he also felt he had a good start, and through the first 90 or so metres he held a narrow lead. "The two other guys started catching up to me," he said, "I just didn't have that extra zip."

Horsman said he was disappointed in his performance in the morning.

"I was kind of off a little bit," he said. "I got a bit caught up in the moment this morning. I was kind of in awe because, A, I've never been in front of a big crowd like this and, B, I've never had people that close to me in a race.

"I didn't have my best time, but I'm glad it happened. It made me more intense for the final. I think I helped in the long run."

Horsman said the experience was "bittersweet."

"This is great," he said. "Coming second in Ontario is amazing but knowing you were that close? Wow. But you can't really do much about that. I ran my hardest.

"I'll get him next year."

Horsman, who became the first male Kingston Area athlete of any age to win a medal in the 100 metres in 15 years, is likely to face Ajirabo again Saturday in the final of the 200 metres. Horsman also goes into that event with the best seed time.

"He pulled it out today," Horsman said, "but I'll try again tomorrow."

Horsman was not the only local competitor on the second day of the Ontario Federation of School Athletic Associations championships to come out on the short end of a tie-breaking photo.

Kingston Collegiate's Marissa Battle had the same time in her heat of junior girls 100 metres as Emma Maltais of Burlington Nelson, 12.79 seconds. When the time was extended to a third decimal place, however, Maltais prevailed for second place in 12.782 seconds.

Battle, at 12.788, wasn't as fortunate as Horsman, however. There was no silver lining in her cloud because, since she was denied second place and an automatic berth in the final, she went into the pot of also-rans, only the top two of whom would earn the right to advance.

Because she was in the slow heat, Battle fell to 11th place overall and failed to make the final.