By CLAUDE SCILLEY
Allen Champagne might be the answer to a football coach's prayer, but make no mistake about it.
"I'm an academic guy," Champagne says. "I'm here for school."
Specifically, that's to pursue graduate studies in neuroscience, with a degree in his back pocket from the University of North Carolina, where he also just so happened to play three years in the Atlantic Coast Conference.
"I'm also a football guy," Champagne says, emphatically, "but I choose my football based on academic decisions."
You kind of have to believe a fellow who rejected the advances of Laval, the perennial national champion, and Montreal, the reigning one, to come and play football for the Queen's Golden Gaels.
Certainly, the folks on the panel interviewing candidates for grad school were convinced, Gaels coach Pat Sheahan said.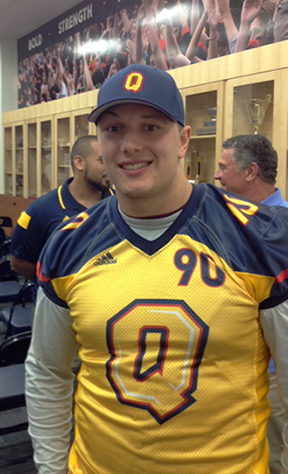 Allen Champagne played three seasons with the North Carolina Tar Heels, and was the subject of one of the ACC's 10 must-see moments

"You never know what they'll think: 'Oh, here's a football guy who wants to do a Masters,' but he was very engaging," Sheahan said. "He'd done his background work; he knew what he was talking about enough that they could see his passion; that he wasn't just coming here to line up and play football.

"He's a unique character. He's very interested in doing something significant here of an academic sort. This was not a football decision for him; it was an academic decision. He just happens to be a helluva football player."

Champagne left Chapel Hill with a double major, in biology and kinesiology, and a minor in chemistry. "Kind of a science-y background," he says. While he was there, he became interested in concussions and he worked with Kevin Guskiewicz, one of the world's leading researchers in the field.

"Concussion research right now is really hot," Champagne said. "There's a lot of things going on in the States and Canada. There's an exciting project here and I'm excited to be part of that."

With the Tar Heels, Champagne redshirted his first year, then played every game the next three seasons on special teams, with some time on the defensive line and as the fullback on the team's goal-line jumbo package. "That was fun," he said.

Little compares to playing Division 1 football in the U.S. "It's the dream," he said. "Big school, big program—a lot of great athletes, good mentorship … big facilities, big crowds, big games.

"It was tough competition. As a Canadian there you always hear, 'Oh, they play football in Canada?' but you've got to love the grind."

If Sheahan is delighted that Champagne will be a force in the classroom, he's downright tickled at the prospect of having him develop quickly into a force on the football field. At 275 pounds, down about 25 pounds from his playing weight at UNC, Champagne projects as an interior defensive lineman, or possibly a rush end.

"The whole idea of an all-Canadian like Derek Wiggan graduating and then somebody of his calibre coming in was too good to have happen," Sheahan said. "It was uncanny."

Not that there wasn't work afoot to make it so. Sheahan had known Champagne since he followed in the footsteps of his older brother, Philippe, from Montreal to Upper Canada College. "I was a big fan of Allen back then," Sheahan said.

"A student of his calibre was being recruited by all the top schools, McGill, Queen's, Toronto, UBC, and he had a number of choices in the U.S. Then, when he became the recipient of the big scholarship at North Carolina, that was a dream come true and too hard to turn down. When he left, I said, 'Well, see you for law school or med school.'

"It was a little bit of a joke—but only half."

It was easy for Sheahan to keep tabs on Champagne's career at UNC. Philippe, a linebacker, had come to Queen's and was the first francophone captain in the history of the football team. "Philippe has been a good, supportive alumnus," Sheahan said, "and what was going on with Allen has been part of the conversation, typically.

"It became pretty obvious as Allen went into his third year that, since he was a redshirt freshman, he was going to graduate on time. He wasn't sticking around for another year. That meant he'd have two years left if he came here. That's where it started.

"The interesting thing is a lot of people who would take a huge academic scholarship like that, they wouldn't put themselves at risk by playing football, particularly there, with the demands on a Division 1 athlete, but Allen did that and maintained the GPA that he needed to be able to qualify for grad school here."

In his junior year at Carolina, Champagne became famous for a special-teams downfield tackle he made that ESPN flagged as a highlight and the ACC declared one of its 10 "must-see" moments. "I was the guy for a little bit," he smiled. "It was fun."

See it here:

https://video.search.yahoo.com/video/play;_ylt=A2KLqIF.nYVVi1QAr2osnIlQ;_ylu=X3oDMTByZWc0dGJtBHNlYwNzcgRzbGsDdmlkBHZ0aWQDBGdwb3MDMQ--?p=Allen+Champagne+Football&vid=c70d1ac3eb65911f984f4354972ca927&turl=http%3A%2F%2Fts1.mm.bing.net%2Fth%3Fid%3DWN.drsu%252fYpCawItXw3rVr4sFg%26pid%3D15.1%26h%3D168%26w%3D300%26c%3D7%26rs%3D1&rurl=https%3A%2F%2Fwww.youtube.com%2Fwatch%3Fv%3DvC0sr6Om3ko&tit=ACC+Must+See+Moment+%7C+UNC%26%2339%3Bs+Allen+Champagne+Big+Hit+on+South+Carolina+Returner+%7C+ACCDigitalNetwork&c=0&h=168&w=300&l=27&sigr=11bcs7tgt&sigt=136emieuf&sigi=12m1k1si7&age=1377705600&fr2=p%3As%2Cv%3Av&fr=yhs-mozilla-004&hsimp=yhs-004&hspart=mozilla&tt=b

Perhaps one day such a play will appear on a future Queen's promotional video, the current edition of which features an eerily similar tackle made by his older brother more than 10 years ago, denying McMaster running back Kyle Pyear a scoring bid at the goal line.

See it here, about 70 seconds into the video:

https://video.search.yahoo.com/video/play;_ylt=A2KLqIDNrIVVJHsA9MAsnIlQ;_ylu=X3oDMTByZWc0dGJtBHNlYwNzcgRzbGsDdmlkBHZ0aWQDBGdwb3MDMQ--?p=Queen%27s+Football+Legacy&vid=62c26279397322f6c194bf6d0b7ef6ed&turl=http%3A%2F%2Fts1.mm.bing.net%2Fth%3Fid%3DWN.5%252b5Eh6FgoWzmKewoR%252fQbcQ%26pid%3D15.1%26h%3D168%26w%3D300%26c%3D7%26rs%3D1&rurl=https%3A%2F%2Fwww.youtube.com%2Fwatch%3Fv%3DWJcSrduAfjk&tit=Queen%26%2339%3Bs+Football+Legacy+2014&c=0&h=168&w=300&l=195&sigr=11b3g8332&sigt=1100g4alm&sigi=12ov2l8nk&age=1392687505&fr2=p%3As%2Cv%3Av&fr=yhs-mozilla-004&hsimp=yhs-004&hspart=mozilla&tt=b

"I'm trying to, not out-do him, but compete against his legacy," Allen said.

"I've lived the dream, and I'm coming here to finish it off."