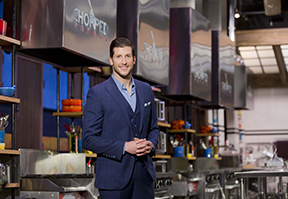 Brad Smith studied drama while he played football at Queen's

Brad Smith, the former Queen's Golden Gaels football star, is the new host of Chopped Canada, a culinary competition series on the Food Network, the specialty channel announced Tuesday.

Smith, an all-Canadian receiver in his rookie season with the Gaels in 2002, and again in 2006, went on to a career in the Canadian Football League, with stops in Toronto, Edmonton and Montreal.

He later was the bachelor in the first season of the reality television series The Bachelor Canada, and he subsequently worked as an entertainment reporter on City TV in Toronto.

In Chopped, each show pits four chefs against the clock, challenging them to turn baskets of mystery ingredients into a three-course meal for a chance to win $10,000. Course by course, a rotating panel of judges "chops" contestants from the competition until only one remains.

The 31-episode third season of the show will begin this year at a date not specified in a release from the Food Network.