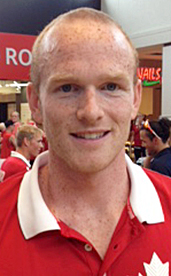 Will Crothers is proud to be part of the Kingston delegation on the Canadian rowing team at the Pan Am Games, the largest contingent on the men's team

By CLAUDE SCILLEY

ST. CATHARINES, July 8—It's good, Will Crothers says, to be back.

"It's fun to be in a big crew again," Crothers said. "It brings back memories of London, for sure. We're having a blast being out in it.

"There's a mob mentality when you get out there in a big boat. It's going really well."

Crothers, of Kingston, will be in both the Canadian four and the eight in the upcoming Pan American Games rowing regatta, beginning here Saturday. For the members of those crews, this is the light that was at the end of a long tunnel through which they rowed throughout the winter and spring.

"Usually you're training in small boats, singles and pairs, to get the small-boat skill going," Crothers said. "It's more about getting in shape, building the foundation for what we're trying to do.

"The grind is always there, putting all those hours in for the five-minute effort down the line."

Crothers' freshest rowing memories might be of that arduous process, but no less vivid are those of which he speaks from London, where he was a member of Canada's silver medal-winning eight in the 2012 Olympics. That's the shiniest bauble in the Crothers trophy cabinet, which also includes a bronze medal from the world championship in 2011 in Slovenia and a gold medal in the under-23 world championship in Belgium in 2006, all in eight-man boats.

There have been a host of top-six performances in the men's four in the past three years, most recently a third-place finish at a World Cup event this spring in Italy.

Crothers' suitcase also has stickers from international competitions in Switzerland, France, South Korea, New Zealand, Czech Republic, Germany and Spain, but there are few home games for rowers.

Indeed, Crothers hasn't raced as part of a national crew in Canadian waters since 2010, when the men's eight competed in the Royal Canadian Henley Regatta, on the same course the Pan Am events will be contested next week.

That's why, he says, the races of the Pan Am Games are just as important to Canadians as the looming world championships later this summer, even though the latter is where athletes will be bidding to qualify for next year's Olympics in Brazil.

"A regatta on your home course like this? We're treating this as seriously as we would any race," he said. "It's an honour to be able to compete in Canada and to have a Pan Am Games in Canada line up in my rowing career … is huge."

Competitive elements aside—it will be a strong field, with Argentina, Cuba and the U.S. floating formidable crews—Crothers longs to relive the experience of that race in 2010.

"We put down a pretty fast time," he said, recalling that day. "I think we were about two seconds off the world record. It was amazing. When you get to the grandstand at Henley, down at the end near Port Dalhousie, you can't hear anything because it's so loud. It's an awesome feeling. You're trying to listen to your coxswain but (you can't); because the crowd is roaring for Canada.

"I'm really excited to be back in the eight, back on this course and to feel that same support of being in Canada, competing for Canada. You really feel it and it's awesome."

When the members of the team were introduced at a civic reception here Wednesday, it was perhaps surprising that, notwithstanding the presence of athletes from traditional rowing hotbeds like Victoria and St. Catharines, the city contributing the most members to the national men's team is Kingston. In addition to Crothers, fellow Kingston Collegiate grads Nic Pratt, in the lightweight four, and Rob Gibson, in the men's single and quadruple sculls, will compete here this week.

"Kingston's got a pretty proud tradition of rowing," Crothers said. "At the Games back in London, along that 401 corridor, there were lots of guys who came from the area. It's a huge honour to be from Kingston. We have a great tradition at the Kingston Rowing Club. John Armitage, Nate Patry—they were a huge influence in my rowing career. I wouldn't be where I am without those guys."

Crothers, who takes a pragmatic approach to early morning training—"make the national team so you don't have to get up as early as the club rowers," he says in his Rowing Canada bio—says the Limestone bunch is not reluctant to flaunt its heritage.

"We're always yelling '613,' all that stuff," he said. "It's a big thing. It's important to us."

Heats in the men's four will be Saturday morning, with the final Monday at 10:05 a.m. In the eight, heats will be raced Sunday at 10:45 a.m., with the final Wednesday at 10:35 a.m.