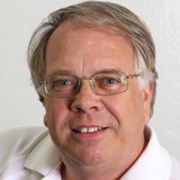 If only those rascally engineers had known, perhaps the one of the bathrooms at Richardson Stadium might have one day been the subject of an April Fool's prank.

That's because, it seems, they weren't tied down.

That tidbit emerged from the first day of demolition on the east side of the stadium this week, when the wreckers went to work and instead of knocking a hole in the wall of the concrete block structure, they instead just moved it on the slab on which the facilities sat.

"It normally wouldn't slide because there should be rebar coming up, but it just slid right off there," said John Garrah, site supervisor and project manager for M. Sullivan and Son, the general contractor charged with getting the old Richardson Stadium down and the new one up in time for the start of the 2016 Ontario University Athletics football season.

"It came down really easy, probably about five minutes per washroom," Garrah continued. "It could have been quicker but you have to sort through the material to recycle it."

Just two days after 3,500 or so students sat in them for Saturday's Homecoming game, work began Tuesday to dismantle the bleachers on the east side of the stadium. By the time this Saturday's playoff game rolls around, all anyone will see of what came to be called the student side of the stadium will be the metal.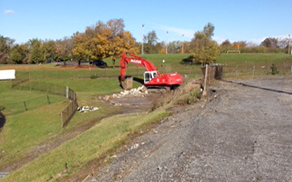 Only rubble remained Thursday where the north washroom once stood at Richardson Stadium

Any students who wish to attend the quarter-final match with Carleton—unlike the regular season, they have to pay to watch in the playoffs because the OUA requires a cut of the gate—will have to do so from the end zone seats, the ones the athletics department touts as the best seats in the house, but which oddly remain empty unless every other seat in the place is sold.

The temporary bleachers that were constructed two years ago when the upper levels of the stadium were condemned have been moved, some bound for St. Lawrence College, others for use by the City of Kingston.

Tenders closed Wednesday for concrete and rebar work, and Garrah hopes those jobs will begin next week. Next, architects will merge the designs for the deep foundation work with the grandstand, with an eye to starting that this fall. On Monday, the plan is to start the foundation for the permanent building on the east side that will house the box office, washrooms and concessions.

Though the seating on the southwest upper level (alumni side) bleachers has been removed, no more work will take place on the west structure until Nov. 19, Garrah said. That's because there exists one scenario whereby the Gaels will have another home game after this weekend.

Should Queen's and Laurier both win their quarter-finals Saturday, and they go on to upset both Western and Guelph in the semifinals—leaving the Gaels and Golden Hawks as the last two teams standing—Queen's would host the Yates Cup game on the 14th by virtue of having finished ahead of Laurier in the regular year, notwithstanding Laurier's win over the Gaels last weekend.

Of course, if another moon emerges, aliens land and Queen's wins that game, too, as the OUA champion, the Gaels are obliged to host the Mitchell Bowl national semifinal on Nov. 21.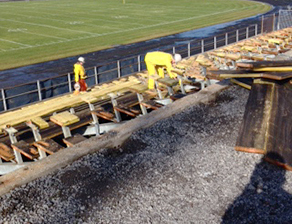 Workers remove the benches in the east side bleachers at Richardson Stadium

"That's fine," Garrah said. "We have lots of work to do on the east side."

But back to reality.

Once the season is done, demolition will take place on the west stands. The last thing to go will be the press box, which will be lowered by crane to the track and dismantled there.

Garrah said work will continue throughout the winter.

"Most buildings nowadays, you don't really shut down for the winter," he said. "It's slower construction, but it's tight, really tight to get this finished in time. It's going really well. We're going to do our best."

•

As the Queen's Golden Gaels struggle to find their way defensively, there's a certain segment of Gaels Nation quietly smiling in the background.

Down in Antigonish, N.S., Bob Mullen, a Queen's Football Hall of Fame player and coach, has the St. Francis Xavier X-Men playing superbly. The defensive co-ordinator of the X-Men directs a group that hasn't allowed a touchdown since Saint Mary's scored late in the third quarter of a 31-15 X victory Oct. 3.

That's 197 minutes and 42 seconds without letting an opponent's offence reach the end zone. Since then, the only touchdowns the X-Men have allowed came on two fumble recoveries—less than two minutes apart—in the first half of a 31-17 loss to defending conference champion Mount Allison.

That's the only loss the X-Men have suffered in their last four games.

Mullen, defensive co-ordinator of the only Vanier Cup team ever to post a shutout, was on the short list of candidates for the defensive co-ordinator's job with the Gaels two years ago, when Pat Tracey left for the Canadian Football League, but he did not get the job.

That's why, while they lament the Gaels current difficulties—960 yards of offence and 67 points in the last two games, both against sub-.500 teams—certain of the Gaels alumni and supporters are quietly celebrating Mullen's success.

Two members of the St. F.X. defence are familiar. Hayden Peters, in his fourth year, is a graduate of the Sydenham Golden Eagles. He has 32 tackles, three interceptions and a quarterback sack this year.

Brockville's Dylan Bell is starting in the secondary for the X-Men. Like Peters, Bell played for Mullen with the Kingston Grenadiers. He's made 25 tackles, forced a fumble and has broken up seven passes.

Two other Grenadiers alumni, linebacker Tyler Priest (Frontenac) and defensive lineman Tristan Grossman (Holy Cross), are dressing in backup roles as freshmen. Priest has a fumble recovery on his rookie resume.

St. Francis Xavier goes into its rematch with Mount Allison Saturday in Sackville, N.B., the final game of the Atlantic conference regular schedule, with a playoff berth assured, and the opportunity to finish as high as first—with a win by 15 points or more—or as low as third.

•

Former Queen's Golden Gaels running back Bryan Crawford has been appointed senior director of operations for Canada Basketball. It's a newly created position, the priorities of which are coach education, domestic development and hosting. The appointment takes effect Nov. 16.

In four seasons with the Gaels, 2001-04, Crawford, a product of Barton high school in Hamilton, carried the football 215 times for 1,315 yards and eight touchdowns. He also caught 56 passes for 643 yards and another touchdown. His best year was 2004 when, after being named most valuable player for the East team in the spring East-West Bowl, he rushed for 685 yards.

After he left Queen's, Crawford had a seven-year Canadian Football League career with the Toronto Argonauts, for whom he was both a team captain and team representative with the CFL Players Association. In 2011 he was the Argos' nominee for the Tom Pate award, recognizing his community involvement in cancer research, ALS support and the Argonauts' anti-bullying program.

Most recently, Crawford, a political studies grad with majors in policy and governance, has served Ontario University Athletics as director of operations, overseeing a five-year strategic plan that involved establishing numerous commercial partnerships, a new website and a league-wide webcasting forum.

•

Calgary Dinosaurs continue to be ranked No. 1 in Canada, according to the most recent poll of Football Reporters of Canada members. The collective logic of the panel continues to puzzle, though, as Calgary's 57-7 win over Regina—the Dinos' sixth win in seven games this year by 29 points or more—only served to earn them three fewer first-place votes than they were given in the previous poll.

No. 2 Western had four first-place votes and Laval one, after each defeated a top-10 opponent. Western completed its regular season 8-0 with a 46-24 win over No. 6 McMaster, while Laval, 6-1, defeated No. 5 Sherbrooke 36-7.

The Atlantic conference continues to be dismissed, though Mount Allison, at 5-2, has a record as good or better than half of this week's ranked teams. The Mounties have won four in a row, three of them on the road.

Queen's, which crept into the Top 10 Oct. 13 after the Gaels stunned Guelph—not to mention most of the university football community—with their win over the previously unbeaten Gryphons, held it for a week but quietly fell out the following week, when they narrowly defeated York. Their place was taken by their playoff opponent this week, Carleton, which has been No. 10 for the last two weeks.

The only game involving ranked teams this week involves No. 8 Manitoba playing No. 9 British Columbia in Vancouver. When the teams met in September, the Thunderbirds prevailed 51-48 in a game at Winnipeg where the teams combined for almost 1,100 yards of offence, but only 147 yards of rushing.

Top 10 teams in Canadian Interuniversity Sport football, with record, last week's rank, points in balloting, first-place votes, my vote, last week's result and next opponent:

1. Calgary, 7-0 (1), 285 points (24) (1), beat Regina 57-7; next: Saturday, at Alberta.

2. Western, 8-0 (2), 261 points (4) (2), beat No. 6 McMaster 46-24; next: opponent TBA, conference semifinal, Nov. 7.

3. Laval, 6-1 (4), 220 points (1) (4), beat No. 5 Sherbrooke 36-7; next: Saturday, at McGill.

4. Montreal, 5-2 (3), 218 points (3), beat Bishop's 52-3; next: Saturday, vs. Concordia.

5. Guelph, 7-1 (7), 153 points (7), beat Carleton 44-12; next: opponent TBA, conference semifinal, Nov. 7.

6. McMaster, 6-2 (6), 120 points (5), lost 46-24 to No. 2 Western; next: Saturday, conference quarter-final, vs. Wilfrid Laurier.

7. Sherbrooke, 4-3 (5) 108 points (6), lost 36-7 to No. 1 Laval; next: Saturday, vs. Bishop's.

8. Manitoba, 5-2 (8), 101 points (8), beat Alberta 29-7; next: Saturday, at No. 9 British Columbia.

9. British Columbia, 5-2 (9), 95 points (9), beat Saskatchewan 41-36; next: Saturday, vs. No. 8 Manitoba.

10. Carleton, 5-3 (10), 12 points (NR), lost 44-12 to Guelph; next: Saturday, conference quarter-final at Queen's.

(My No. 10: Mount Allison)

Other teams receiving votes: Mount Allison 11, Concordia 6, Wilfrid Laurier 5.