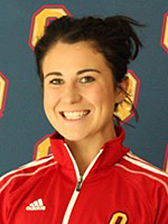 Gillian Pegg of Queen's won a bronze medal Sunday at the Canadian Interuniversity Sport wrestling championships in St. Catharines.

For the fourth-year physical education student from Oro-Medonte, Ont., it was the second medal from a national championship this year. In the fall, Pegg, a first-team all-Canadian hooker, helped the Gaels to win the silver at the women's rugby championship in Kingston.

In St. Catharines this weekend, Pegg split her preliminary matches, defeating Dana Campbell of Lakehead before falling to Kiera Prior of Saskatchewan.

In the bronze medal match, Pegg, the Ontario University Athletics champion at 82 kilograms, defeated Carmella Fleurant of Brock. Fleurant had also split her two preliminary matches.

Prior advanced to the gold medal match, where she lost to Holly Ellsworth-Clark of Calgary.

Brock won both the men's and women's team championships. The Brock women took home medals in seven of eight weight classes, four of them gold, as they became the first women's team to capture five consecutive CIS national wrestling titles.

The Brock wrestling program has now captured 22 national championships since its first title in 1992.