There's nothing like a car ride to Welland with four strangers to make a fellow feel like he's right at home.
Not that it was exactly what Ryan Koolen had in mind for his first day on the job with the Toronto organizing committee for the Pan American Games this summer, but there he was on this October day two years ago, on his way to tour the venue for a sport he knew nothing about, with people assembled from across the hemisphere who knew even less about Welland, Ont., than he did.
They were bound to convene the first planning session for the flatwater canoe and kayak competitions to be held there 21 months hence.
"It was," Koolen said, "really interesting."
This wasn't quite easing the new guy into his job gently, but rather than being uncomfortable, Koolen found the situation led to a bit of an epiphany. If he had been harbouring any second thoughts about his decision to leave a steady job in the athletics department at Queen's University for a 22-month gig with a finite end date, they vanished during that drive down the Queen Elizabeth Way.
"There were five people in the car and every one was from a different country," he said. "They all spoke English so it was no problem, and as we were talking about it, it made me understand the scope of the event, (and that) there's a lot of really passionate people that are committed to getting things done. They call themselves Gamers. They go from Games to Games to Games.
"It reinforced why I want to do this, and that it's not just me feeling this way, there's a lot of people who want to be involved in these large scale events. It really reinforced that, yeah, I came here for the right reasons."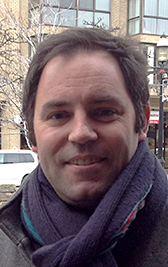 Kingston's Ryan Koolen is zone manager for the western venues for the Pan American Games in Toronto this summer

A La Salle Secondary School graduate, who stumbled into a career in facilities and event management almost by accident while he was a studying physiotherapy and history at the University of Toronto, Koolen saw the approaching Pan Am Games a bit like the big leagues of his field. He couldn't resist the temptation to try to be part of it.
"I thought, 'OK, how often is something like this possibly going to happen?'" Koolen said. "You can't really pass this kind of opportunity up. It's maybe a once-in-a-lifetime thing, so I thought, 'Let's see if I can get something.'"
Originally hired to be a venue manager—in charge of planning for one site—after eight months Koolen was promoted to manage the western zone, one of five zones into which the various competition sites have been divided. As such, he's responsible for co-ordinating everything from ticket takes to ushers, transportation, catering, you name it, at all the competition and training venues from Etobicoke to Welland. "Essentially I'm a project manager," he said, intermeshing his fingers. "It's my job to make sure things fall into place, and to enforce the deadlines of when they have to happen."
The venues under his purview are the BMX track at Centennial Park and the bowling alley in Etobicoke; the Mississauga Sport Centre (aka the Hershey Centre), where four sports—judo, wrestling, taekwondo and karate—will be contested, and which will also be the site of wheelchair rugby, power lifting and goalball for the para-Pan Games; the velodrome in Milton for track cycling; Tim Hortons Stadium in Hamilton, site of the soccer tournaments; the rowing course at St. Catharines, and the flat-water course in Welland. As well, there are three high schools in Hamilton and a three-field complex in Burlington that will be used for soccer practice, and the Olympium facility in Etobicoke will be used for training for water polo, swimming and rhythmic gymnastics.
"It's a big portfolio," Koolen said, certainly a much bigger portfolio than he could have imagined when he was the night facility manager at venerable Hart House, supervising wedding receptions and the like, while he was a student at U of T.
A quarterback on the Varsity Blues football team, Koolen was involved in helping on game days for other sports as a part-time job. In his final two years, he was student head of athletics, and it was in that capacity that he was on his way to an 8:30 budget meeting one morning.
"The associate dean comes over and says, 'Ryan, can I talk to you for a second?'" Koolen recalled. "I thought, 'Uh-oh, what'd I do?' He said, 'I think you should apply for this job.' It was for assistant manager at the stadium and arena.
"I'm, like, 'OK when's the deadline?'
"Two weeks later, I had a full-time job."
While he had been involved in running many national championships and international athletic events, like many of the people with the Toronto Pan Am Games organizing group Koolen had no experience in a multisport games of this magnitude. "I thought I understood the scope when I applied, but until you get here and realize what's involved and how the planning works, the amount of stuff that goes into running one of these large events is quite massive."
It presents a challenge, Koolen said, that is both intriguing and imposing.
"The daunting thing is there's going to be a little bit of worry and concern, because we're going to be doing everything with volunteers."
The Vancouver Olympics had about 4,000 paid staff overseeing about 25,000 volunteers; Koolen said the Toronto group will have about 500 or 600 paid staff managing about the same number of volunteers. "We're trying to do as much with less. What you would see at a lot of events that would be paid staff, for a lot of ours will be volunteers.
"It creates a risk, but it also creates some good opportunities."
On the plus side, Koolen said, with volunteers you get people who want to be there. "They're excited to be there and be part of it."
Koolen's group recently held a "test event" to baptize the Pan Am velodrome, where the Canadian championships and an international competition were held concurrently. One person flew from Argentina to volunteer; another from Florida. "It's unbelievable to think that just because they want to be involved in that event during the Games, they were willing to travel, on their own dime, to come and help out at the test event.
"We knew people would want to volunteer for stuff. You don't realize the scope."
At the test event, Koolen said a couple of logistical lessons were learned with respect to dealing with all those volunteers. One of the challenges is preventing attrition. In other words, how do you make sure volunteers keep coming back, day after day? "You have to make sure you're not leaving them in the back corner, just because someone's got to make sure no one goes through that door who's not supposed to," Koolen said. "You have to make sure you're moving them around so they're all getting a different experience, because otherwise, if you forget about someone back there, they're never coming back."
There was also a logistical concern that the organizers hadn't thought of.
"Let's say you have a person in charge of 20 volunteers. When they leave and the next person comes in, what do we do to make sure that handoff goes smoothly? In the planning for our venues, all those transitions happened at the same time, and it made sense, because that's the middle of the day, right? But, really, do you want all your leadership people switching at the same time? Probably not.
"It's working through those little things. Until you actually do it and think through it, after the fact, (that you go from), 'OK, this makes sense' to, 'Wait a minute, maybe we should do this (instead).'"
During that cycling test event, organizers realized that the number of registrations had grown from 73 at the Canadian championships to 136 for the international event. It required a complete re-think on the fly, with any number of things that could be disastrous. "The shuttles had to change, everything had to change, in all the areas: transport, medical, catering, workforce—everything had to be re-done while still running another event, and we pulled that off.
"All of our days completely changed, but everyone was able to work through, pull together and get it done. That was the neat thing: It was a lot of long hours but it was a lot of fun to be a part of."
Solving problems was not foreign to Koolen in 15 years of helping with university athletics and such international events as the under-20 World Cup of soccer. "I'll be honest: I'm probably better operationally than I have been planning in the past," he said. "If something happens, I can fix it, but what I've done in the past, planning-wise, probably could have used some work.
"I've always been the person on the venue side, the person that I'm now interacting with, and it's interesting to see that flip. It's given me a whole new microscope and understanding of the planning process. This is has opened my eyes to how much easier that operational piece can be if you've really got all that other stuff completely squared away."
The biggest challenge he's faced, professionally, Koolen said, is learning to manage his time while keeping track of such a wide variety of responsibilities. "At U of T you're talking about three venues; at Queen's you're talking about four or five. Now we're talking about 12 or 13, and all the different elements that go with each," he said.
"Before, I was worried about facilities, and making sure things are set up and things are clean. Now you've got to worry about everything. It's keeping that scope in mind. There's no way I can know everything, but you have to keep the pulse and make sure you understand what's happening in all those operations—and you've got to learn to trust your people, that they can deliver what they need to deliver.
"That's the big thing: making sure you have trustworthy people and you have the ability to communicate with them and be open. If you don't agree with something, you have to be willing to say so and if they don't agree with you, you have to be able to say, 'OK, tell me what you think.'"
Koolen confesses he wasn't necessarily that person by nature.
"If I was being critiqued in the past, I would probably be someone who people would say would be defensive," he said. "I would say not nearly as much anymore. I'm much more open to critique and dealing with different perspectives. That's probably something that happens with more experience—you become more comfortable with (criticism). When you're a person starting out you're, 'No, no I'm right.' You want to make your mark.
"Working with the venue managers at the test event was, 'OK, this is your test event.' They were the ones in charge. I had to make sure they were comfortable and make them recognize the same things."
Koolen said the biggest eye-opener he's encountered so far is the negative press the Games have received in advance of the event.
"You don't realize how much there is, until you're part of it, and it's there, every day," he said. "It's sad to see. People (say), 'Oh, you work on Pan Am?' and it's like, 'Oh …' and it's interesting, talking to people, and you say, 'Well, we're actually doing this, this and this.'
"It's funny having those conversations. You have to have in the back of your mind, that we know what we're doing; that we're working hard to get there, and you have to tune that (negativity) out. It's really weird because in Toronto, it's media, media, media—it's in your face all the time. That's something to get used to that I hadn't had to deal with before.
"It's hard to work through that."
Koolen spends weekdays in Toronto and goes home to Kingston on weekends as often as he can. Getting accustomed to being away from his family—wife, Emily, and children Ella, 8, and Ben, 7—presented perhaps his biggest challenge. "It's about setting up those regular communications," he said. "We do a phone call or a Skype, it's usually every two days, and then I try to get home as much as possible."
Koolen said he'd be interested in doing another Games such as this, but he'd much prefer to do it with his family close by. "I don't know if I could do that, with my family," he said, "but I would love to do one more. That's the challenge, to figure those balances out."
In spite of the negativity, despite missing his family, through the challenges of learning a new job on the fly with non-negotiable deadlines and half the world watching, it's clear to a visitor that Koolen has maintained a genuine enthusiasm for the task at hand. Throughout a conversation in a restaurant steps away from his Queen's Quay office, a certain zeal fairly bubbles.
"If you don't have the enthusiasm to be at one of these events, you can't work them," he said. "We all know that it's going to be long hours, and you're going to have to do hard slogging, but seeing the reaction at the test events of the athletes and the enthusiasm they show, and how much they get out of it, makes a big difference."
Indeed, he says that's how success should be judged when the games are over in July, not by whether mistakes were made, or by the number of tickets that were sold.
"When I'm planning an event, I just assume that something will go wrong," he said. "You have to. The point I've been trying to make is not that nothing will go wrong, because things will. It's how we deal with those challenges, and it's being able to adapt and make changes that we need to make on the fly.
"There's no point in saying it's sold out or whatever, because that's not something that we can control. It's the experiences of the athletes, the volunteers and the spectators—that is how we measure success. I don't care what the media says, if the athletes and the volunteers and the spectators say, 'Yeah, things were great,' that's how I would measure success."