Home > Articles > Amateur Sport > Martin Mack perseveres through 'tough' third stage of ultramarathon


Martin Mack perseveres through 'tough' third stage of ultramarathon


Posted: April 7th, 2015 @ 11:32pm



Kingston ultramarathon runner Martin Mack remains in the top half of the field after three stages of the 30th annual Marathon des Sables in Morocco.
Mack stands 519th after Wednesday's 36.7-kilometre segment through the Sahara Desert, from Jebel el Otfal to Jebel Zireg. He competed the stage in 6 hours, 34 minutes, 19 seconds.
A field of 1,490 competitors began the five-stage, 250-kilometre race Sunday. Mack stands fifth among the 22 Canadians entered.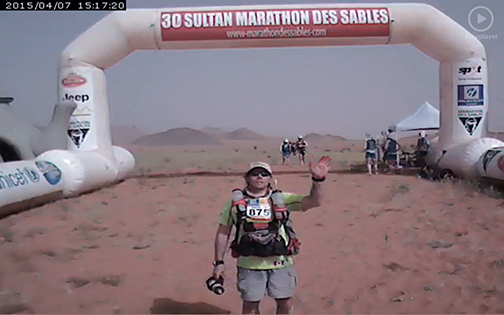 Kingston's Martin Mack completes the third stage of the Marathon des Sables, a 250-kilometre footrace across the Sahara Desert
In an email, Mack, competing in his fifth Marathon des Sables, wrote that it was a tough day.
"My plan was to slow down from the other two days and the terrain made that easy," he wrote, as the early part of the stage was conducted over a mix of flats and sand. Already bothered by an ankle bone that was scraping against the side of a shoe, Mack wrote that he began to feel the effects of the conditions on the salt flats between the first and second checkpoints.
"The heat and lack of air started to drain me mentally and it takes a toll on my feet," he wrote. A fresh pair of socks eased the discomfort with his feet, but the final leg was still "a killer."
"Another climb that was mostly sand and it took 30 minutes to reach the top," he wrote. After the climb came eight kilometres of dunes—"and I walked every one."
With five kilometres to the finish line, Mack started to run out of water. "I switched to survival mode and took small sips of water and walked everything but the last one kilometre."
Wednesday's fifth stage is the longest of the race, an 82.2-kilometre stretch to Oued el Jdaid.
Related Articles: