There are experienced athletes. Then there are athletes who have distinguished themselves over a long period of time who earn the right to be called veterans.
Then there's Lesley Thompson-Willie.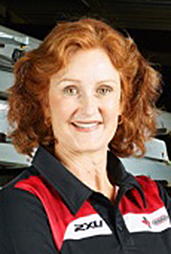 Lesley Thompson-Willie will be seeking her 10th world championship medal later this month in France

And there she is again, listed among competitors who will represent Canada at the world rowing championships later this month, prominent not only for an impeccable record in international competition, but for the fact that none of her teammates were born when she debuted on the international rowing stage.

Once again, Thompson-Willie, 56, will be the coxswain for the Canadian women's eight when the championship regatta convenes Aug. 30 at Lake Aiguebelette, near Chamberly, France.

Thompson-Willie, who attended Napanee District Secondary School and taught briefly at La Salle Secondary School—and now lives in London, Ont., where she attended the University of Western Ontario—competed in her seventh Olympic Games in 2012, leading the Canadian women's eight to a silver medal.

It was the fifth Olympic medal for Thompson-Willie, who has won medals in more different Olympics than any Canadian athlete.

The Canadian crew is looking for a top-five finish to qualify for next summer's Olympics in Rio de Janeiro.

The Canadian women won their most recent race, at the World Cup regatta in Lucerne, Switzerland, in June.

Thompson-Willie has been part of nine medal-winning crews at world championships since 1985, and her five Olympic medals came in 1984 (silver), 1992 (gold), 1996 (silver), 2000 (bronze) and 2012 (silver). She was also part of Canadian crews at the 1988 and 2008 Olympics, and would have been there in 1980 had Canada not boycotted the Games in Moscow.


Three Kingston rowers, all of whom are coming off medal-winning performances at the Pan American Games last month, will also be part of the Canadian team in France.

Rob Gibson will be in the men's quadruple sculls, an event where Canada needs a top-eight finish to qualify for Rio. Will Crothers, a double gold medalist last month at St. Catharines, will be in the men's four and Nic Pratt will again be in the men's lightweight four.